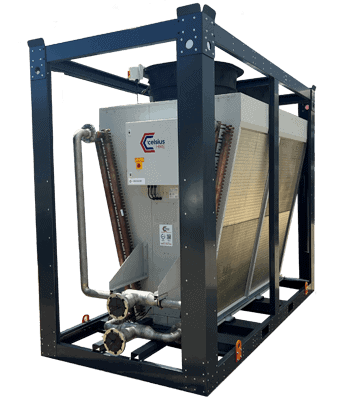 Celsius Hire's 250KW DRY AIR COOLER is designed with the hire industry in mind. It comes complete within a protection frame, and is supplied with quick release mechanical connections and a 3-phase commando plug mounted to the unit.

The unit is supplied with a temperature controller, which regulates the fan speed based on delivery set point, for maximum efficiency.

Dry Air Coolers can be applied in multiple ways, from condenser water cooling to heat loading testing large installed boilers.
Electrical Supply Voltage
Celsius Hire offer a range of products suitable for multiple industries and events. Take a look at our best selling products for hire or get in touch for more information.  
3 Good Reasons to Hire From Celsius…
Equipment specified to your
specific application
Rapid response solutions,
24/7
No obligation site survey by our team of
technical specialists
Ask Celsius Hire for a quote
Our knowledgeable team will be in touch without delay…