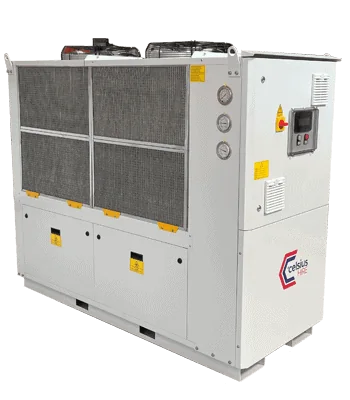 Celsius Hire 35KW CHILLER is a compact, small footprint unit, selected due to its flexibility and handling across a variety of applications.
The chillers benefit from an integral circulation pump and a packaged evaporator immersed in a high volume buffer tank, enabling steady water/glycol temperatures as a result of increased volume. With a large temperature range of -15°C to +25°C, and Eurovent compliant design enabling great efficiencies even in high ambient temperatures, the Celsius Hire 35KW chiller is a safe bet, no matter the application.
The 35KW chiller can connected directly onto the clients water/glycol circuit or be coupled with Celsius Hire's large range of fleet and ancillaries to be provide air conditioned and low temperature environments.
35KW Chiller Specification
Temperature Range (Fluid Leaving)
Electrical Supply Voltage
Celsius Hire offer a range of products suitable for multiple industries and events. Take a look at our best selling products for hire or get in touch for more information.  
3 Good Reasons to Hire From Celsius…
Equipment specified to your
specific application
Rapid response solutions,
24/7
No obligation site survey by our team of
technical specialists
Ask Celsius Hire for a quote
Our knowledgeable team will be in touch without delay…