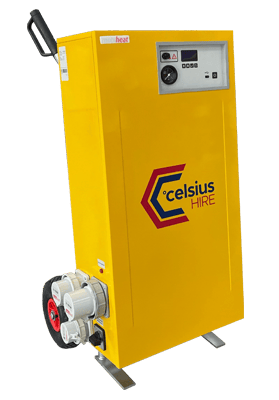 Celsius Hire 40KW ELECTRIC BOILER is a fully portable unit, ideally used for drying concrete flooring, testing underfloor heating and providing central heating and domestic hot water. The digital controller and wide temperature range allows it to be programmed to suit the application.

The unit also comes complete with an internal pump, expansion tank, associated safety cut outs, all whilst being mounted on a trolley for portability.
Electrical Supply Voltage
Celsius Hire offer a range of boilers for multiple industries and events. Take a look at our best selling boilers for hire or get in touch for more information.  
3 Good Reasons to Hire From Celsius…
Equipment specified to your
specific application
Rapid response solutions,
24/7
No obligation site survey by our team of
technical specialists
Ask Celsius Hire for a quote
Our knowledgeable team will be in touch without delay…