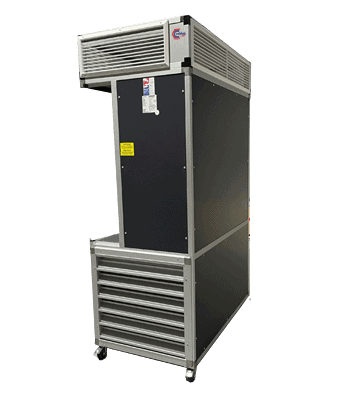 Celsius Hire 50KW AIR HANDLER is a powerful unit offering up to 4,500m3/hr of airflow, providing cooling or heating to large spaces. The unit requires a chilled or hot water source to its coil, and this can be done by coupling with a Celsius Hire Chiller or Boiler or connecting to an existing system.
With a top box fitted as standard, or the option for a 500mm ducting outlet, it is able to be used on a variety of applications, with fast installation speed. Additional features include variable fan speed control, flexible connections, and a mounted 16A single-phase power connection.
Temperature Range (Air Off)
1315mm x 790mm x 1980/2250mm
Electrical Supply Voltage
Celsius Hire offer a range of products suitable for multiple industries and events. Take a look at our best selling products for hire or get in touch for more information.  
3 Good Reasons to Hire From Celsius…
Equipment specified to your
specific application
Rapid response solutions,
24/7
No obligation site survey by our team of
technical specialists
Ask Celsius Hire for a quote
Our knowledgeable team will be in touch without delay…