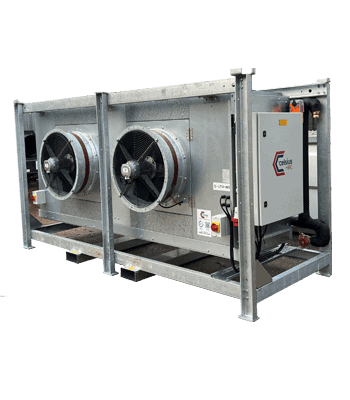 50KW Low Temperature Fan Coil
Celsius Hire 50KW LOW TEMPERATURE FAN COIL is a powerful and diverse unit with a huge temperature range, as low as -20°C air off temperatures. The unit requires a chilled water/glycol source to its coil, and this can be done by coupling with a Celsius Hire Chiller or Boiler or connecting to an existing system.
The unit is equipped with defrost elements in the coil, tray and fan enclosure. This, coupled with a bespoke designed control panel and 3-way valve assembly, allows for intelligent automatic defrost cycles.
Enclosed within a galvanised protection frame and supplied with quick release couplers and commando plug electrical connections, this unit is designed with the rental market in mind and allows for fast installation times.
50KW Low Temperature Fan Coil
Temperature Range (Air Off)
Electrical Supply Voltage
Celsius Hire offer a range of products suitable for multiple industries and events. Take a look at our best selling products for hire or get in touch for more information.  
3 Good Reasons to Hire From Celsius…
Equipment specified to your
specific application
Rapid response solutions,
24/7
No obligation site survey by our team of
technical specialists
Ask Celsius Hire for a quote
Our knowledgeable team will be in touch without delay…