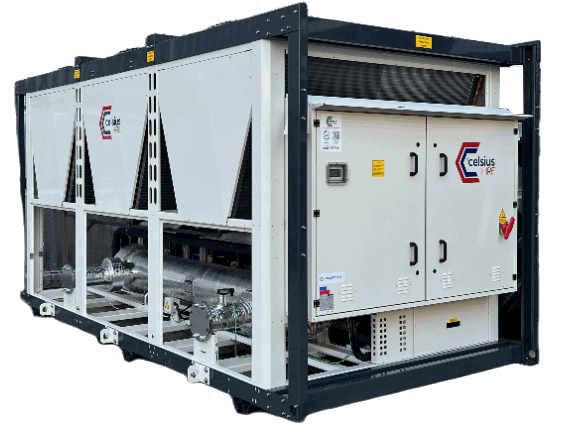 Celsius Hire's 550KW CHILLER is an eco-design compliant model offering a large temperature range thanks to a refrigerant circuit composed of R410A and 6 no. scroll compressors. This allows capacity control for smaller and variable heat loads. The model has a compact footprint, but with its efficient design is able to operate in ambient temperatures of up to 45°C.

The unit is complete with a shell and tube evaporator, flow switch and associated safety switches. This, coupled with Celsius Hire's full supporting range of pump sets, buffer tanks, cables and hoses allows installation on a wide range of applications, from process cooling to HVAC systems.
550KW Chiller Specification
Temperature Range (Fluid Leaving)
Electrical Supply Voltage
Celsius Hire offer a range of products suitable for multiple industries and events. Take a look at our best selling products for hire or get in touch for more information.  
3 Good Reasons to Hire From Celsius…
Equipment specified to your
specific application
Rapid response solutions,
24/7
No obligation site survey by our team of
technical specialists
Ask Celsius Hire for a quote
Our knowledgeable team will be in touch without delay…