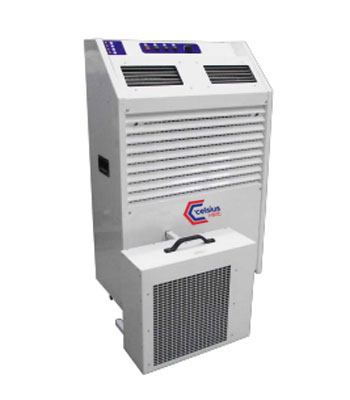 The Celsius Hire 7KW SPLIT AC UNIT is a powerful unit ideal for use in data centres, offices and spot cooling in warehouses/process environments. By using water instead of air to remove heat, the unit avoids the de-rating effect of the condenser in traditional air conditioning systems, delivering up to 7.3KW of chilled air. The package comes complete with an internal portable upright AC unit, which is joined to a remote condenser located externally, all via an interconnecting water-filled umbilical line of up to 35m. This allows the units to be used deep inside buildings or in anywhere where venting hot air is an issue, as associated with mono-bloc systems.
Temperature Range (Air Off)
Umbilical Line Size / Length
Electrical Supply Voltage
Celsius Hire offer a range of Air Conditioning Units suitable for multiple industries and events. Take a look at our best selling Portable AC products for hire or get in touch for more information.  
3 Good Reasons to Hire From Celsius…
Equipment specified to your
specific application
Rapid response solutions,
24/7
No obligation site survey by our team of
technical specialists
Ask Celsius Hire for a quote
Our knowledgeable team will be in touch without delay…