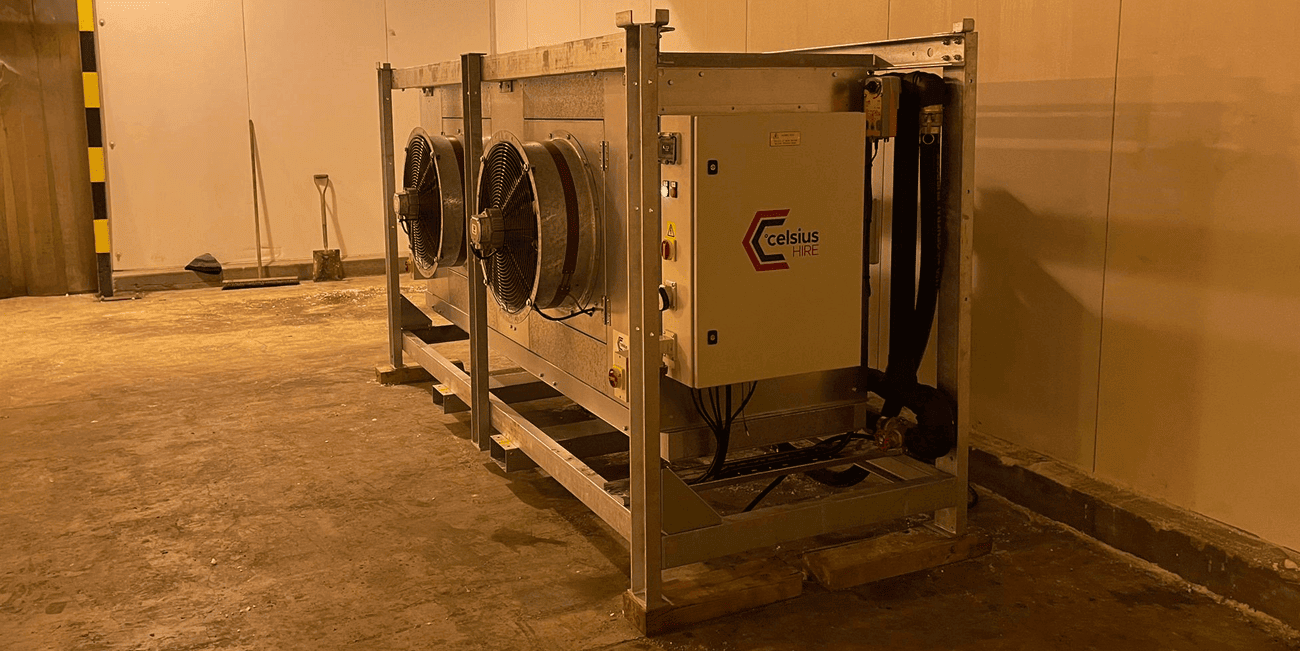 -20°C Low Temperature Rental Package at Major UK Port
When a major UK Port lost its existing refrigeration system keeping a freezer room at -20°C.  These low temperature requirements pose challenges, particularly as part of a temporary installation where turn-around times are important. The nature of the system was critical, as the freezer room served a searching area for imports into the port. Celsius Hire needed to install a reliable, robust temporary solution, and fast.
Luckily for the client, Celsius Hire were on site working on an existing rental project. Therefore from receipt of call were able to immediately survey the requirement.
In order to supply the air temperatures requested by the client, Celsius Hire specified a '50KW Low Temperature Fan Coil'. This unit would be located inside the freezer store. This was to be coupled with an externally located 'Low Temperature Glycol Chiller'. The chiller was to supply a water/glycol mix at -25°C fluid temperature to the internally located fan coil, connected via flexible hoses.
Equipment to support Low Temperature requirements:
– 1 x 25KW Low Temperature Glycol Chiller
– 1 x 50KW Low Temperature Fan Coil
The equipment was delivered and the chiller offloaded into its position outside the cold room by a HIAB crane. The HGV then backed up to the loading bay doors and the internal fan coil unit pallet trucked into its position thanks to its robust rental frame.
Our team then ran flexible hose from the chiller to the fan coil unit via a hole in the cold store wall created by the client. Our client also had a team on site of electricians working to get the supplies installed for the temporary equipment.
Once the system was mechanically and electrically connected, it was filled with a 50% water/glycol mix suitable for the temperatures. It was commissioned and monitored down to the required temperatures by the client. Who were delighted at the turn around provided by Celsius Hire.
"This was a project we were happy to be involved in as the requirement is not that common for a rental supplier like ourselves. We were able to provide a solution that met what the client was looking for, whilst being robust and reliable for a very critical application'.