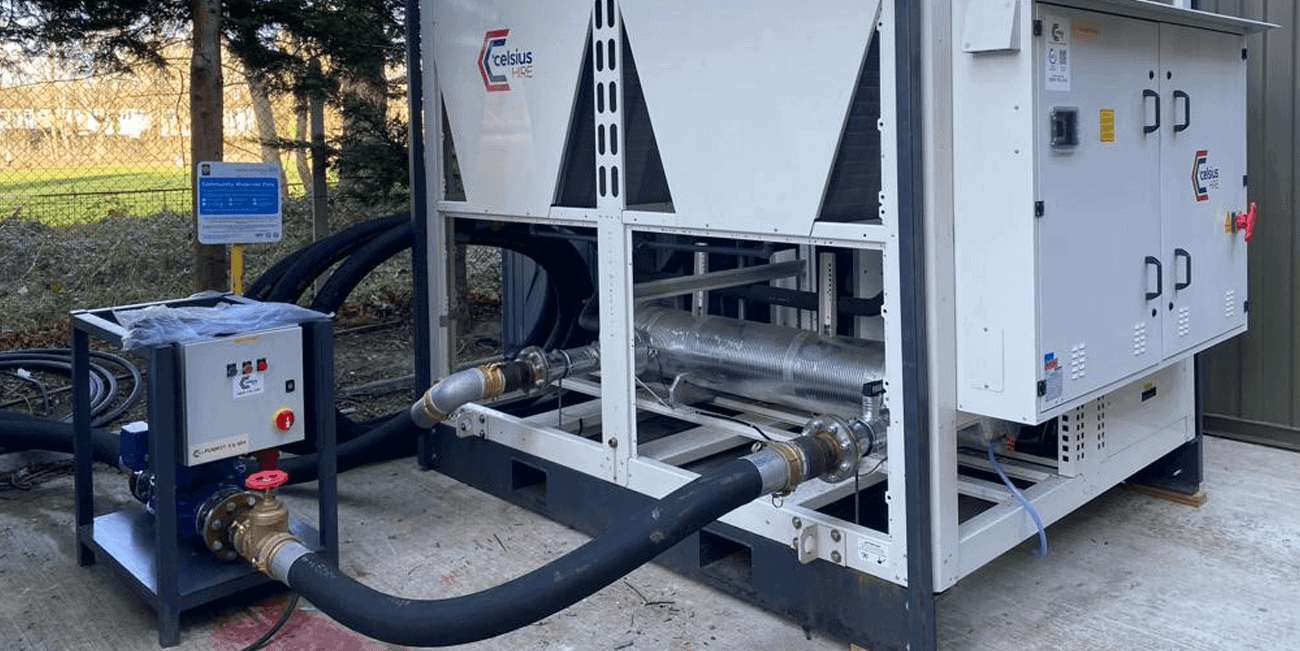 300KW Rental Chiller for Critical Ward at NHS Hospital during replacement programme
Our client, a well-known mechanical contractor, contacted us with a temporary chiller requirement for a large NHS Hospital in London. They were replacing the chillers that served many critical wards including maternity. This needed to maintain supply of chilled water services during their chiller replacement program, which spanned for over 8 weeks.
These chillers were beyond repair and needed to be crane lifted off the roof and replaced with new. Also, the existing circulation pumps that served multiple Air Handling Units for the wards needed to allow for the chiller replacement. Therefore, we were asked to provide circulation with our solution.
Another one of the challenges was that the rental chillers had to be located over 80m away at ground level, over 4 storeys below.
Celsius Hire specified one of our 300KW Air Cooled Rental Chillers to provide the cooling whilst Chiller replacement took place. To be located at ground level next to the dry riser connections. Alongside our chiller was a PUMP 27-3.5, and this was sized to overcome the additional pressure drop of our rental system. As well as the clients existing air handling unit system that feeds the hospital wards.
This, complemented by a range of flexible hoses and ancillary fittings ensured the system was set up to replicate what was already installed. This meant that the wards did not notice a difference once onto the hire package.
Equipment required during chiller replacement:
ThenWe delivered and offloaded the chiller into position via HIAB in the morning meaning disruption to the hospital was minimised. Our operatives connected all flexible hoses and pumps inline with the chiller. Before connecting onto the flexible connections inside the dry riser column, which rose up to the rooftop chiller plant room.
The chiller was then pre-commissioned on a loop to ensure the system was operating correctly prior to the changeover, which was planned for a Saturday. This gave the client and the hospital peace of mind for what is a very critical system.  The changeover occurred over the weekend and was successful. The hire system was switched on and chillers on the roof were switched off. Then de-gassed and crane lifted down before being taken away.
"When you are working on a critical application such as providing cooling to Hospital Wards, it is important that the project is executed. Specifically for us as a rental company, we need to provide well maintained and tested equipment, deliver on time and provide a co-ordinated installation service. On this project we did so and the client was able to changeover onto our system as planned"