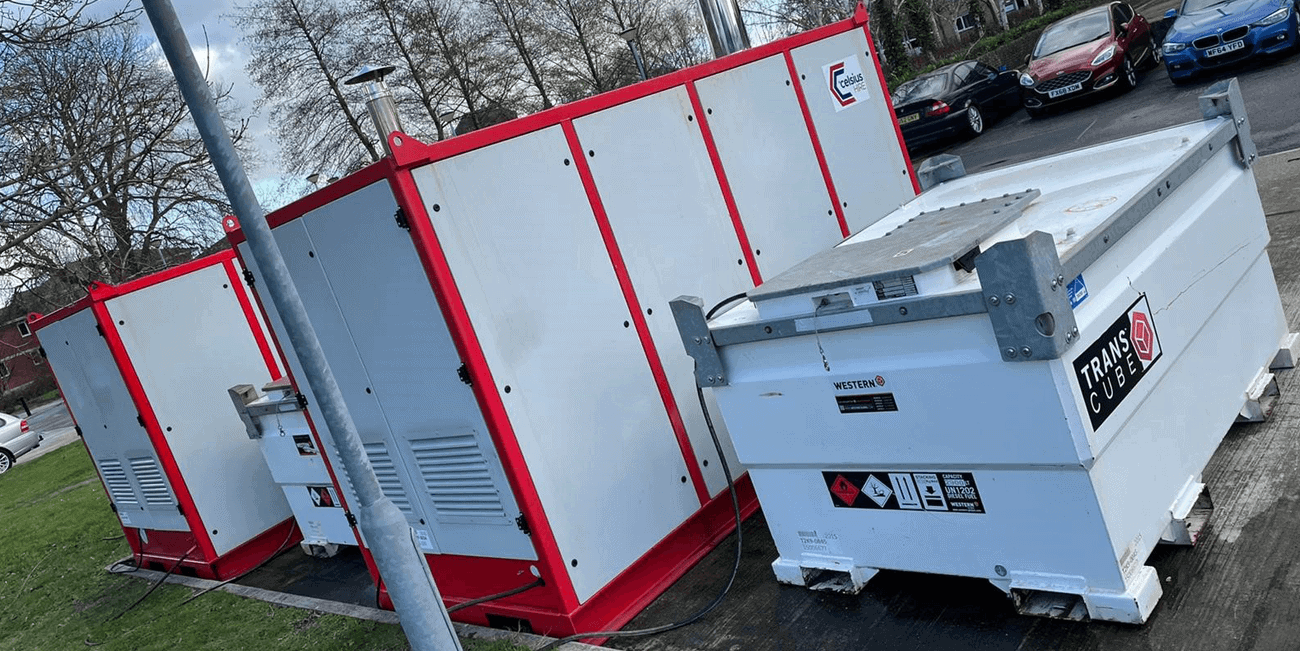 District Heating Network Boiler Hire Package
When the district heating network at a local MOD base failed, the residents living on the campus were left with no heating or hot water for their accommodation.
The issue was an underground pipework leak and not the boiler plant itself. Therefore, a group of six buildings to the North of the site were affected. This meant Celsius Hire had to mobilise boilers for each individual building.
Celsius Hire received a call requesting our immediate attendance to site to survey, and then mobilise, a temporary boiler solution.
Within an hour of the call, Celsius Hire had a team member on site surveying the 6 buildings. As part of the survey, connection points in the plant room were identified, and an external location for the boiler and fuel tank decided on.
Each plant room was unique, so confirming the connection points within each was key to ensure a smooth installation.
Celsius Hire specified the need for six 600KW boilers and a 300KW boiler for the site. Each boiler complete with its own 3000L fuel tank. Boilers were supplied with flexible hose complete with 4" PN16 flange couplers. This was required due to the high temperatures and pressures of the district system.
The following day, on the Saturday, Celsius Hire delivered all the equipment to site. This included all 7 temporary boilers, fuel tanks, hoses and ancillaries.
The MOD base supervisor had listed out the buildings in order of priority, and the Celsius Hire team set to work on installing and commissioning the temporary boilers in this order.
Our client, a leading mechanical contractor, also mobilised a team to site to assist with making the connections onto the district system in the respective plant room locations.
By the Monday, all temporary boilers were fired and operational, restoring heating and hot water to all of the buildings on site.
Jake Revell, Director, commented;
"From the initial enquiry to the final commissioning on site, it was great to deliver on this emergency hire. In simple terms, the client needed to restore heating and hot water as quickly as possible to all the buildings on site. Our response time allowed them to mitigate the impact on the residents and keep the situation under control"