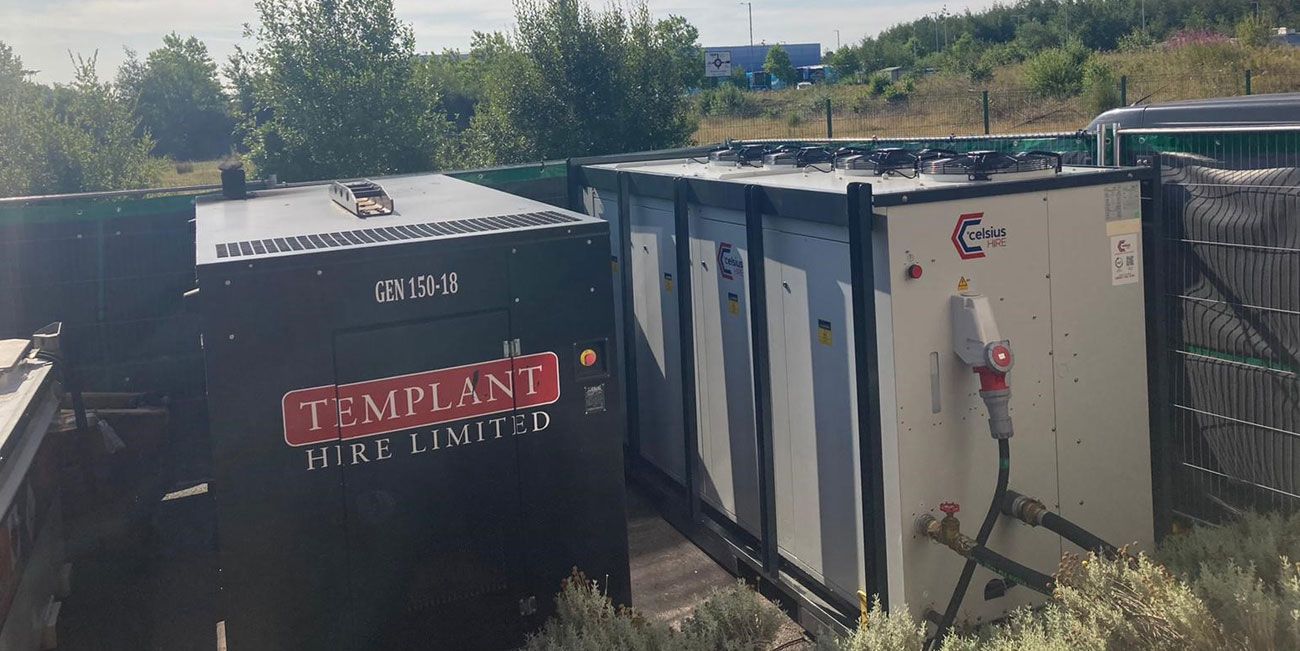 Hotel Chiller and Generator Package for UK Chain
Celsius Hire were approached by one of our trade partners. A request to provide a temporary chiller package at a large UK hotel chain. Following inherent issues with their system on site at one of their hotels. The existing ground source heat pump had become redundant. Therefore the hotel was going into the summer with no cooling at all to the rooms.
Following on site meetings with a mechanical contractor and the Hotel representatives. Celsius Hire identified a 125KW chiller as the correct piece of equipment to provide sufficient cooling capacity.
As the existing system had experienced issues with water quality and flow, a temporary plate heat exchanger was also specified. To provide separating and protect the hire equipment. In addition to this, due to lack of available power, a generator and fuel tank package was added. With Celsius to manage the ongoing fuel management of the equipment. The client also expressed concerns of the noise of the temporary plant. An acoustic panelling package was also included, to prevent disturbance of any guests.
Hotel Chiller Equipment:
– 125KW Chiller 
– 200KW Heat Exchanger
– 100KVA Generator Package 
The installation program was co-ordinated and Celsius Hire arrived on site early in the morning. The HIAB HGV vehicle and unloaded the hotel Chiller, generator and associated ancillaries into position. The Heras fencing and acoustic barriers were erected around the temporary plant before the installation began. The mechanical contractor provided connections in the plant room, and Celsius Hire operatives connected up our system using our stock of flexible hoses and fittings.
The system was then commissioned and ran up to the parameters set by the client, with tests done to ensure the rooms were receiving the cooling required. Celsius Hire have since managed the fuel deliveries for the generator to ensure the supply of chilled water is available with no issues.
Neil Payne, Director, commented;
"When our customer reached out to us for a solution, it was important we understood the system and applied our equipment correctly. When there is inherent issues in a system, they need to be understood and this is why we selected and installed our hire package in a certain way. This reduces the chance of any breakdowns or call outs throughout the hire and in all increases customer satisfaction".