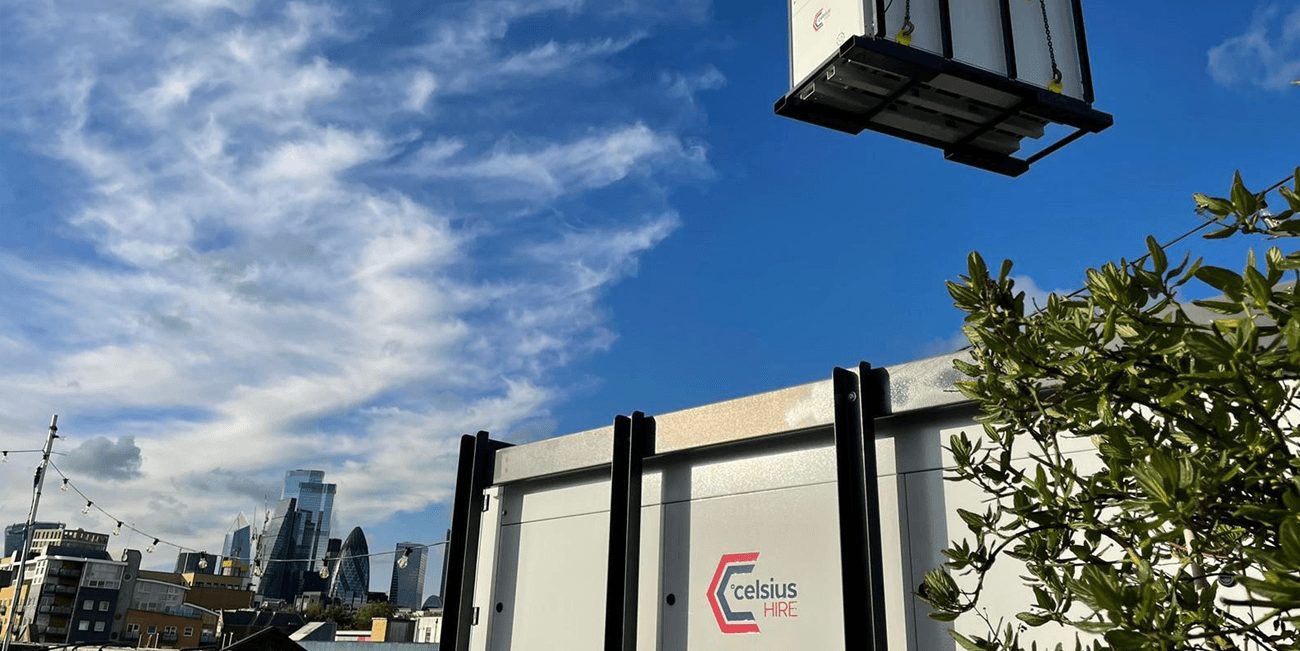 Chiller Hire Package for Iconic London Rooftop Ice Rink
Celsius Hire were approached by one of our Ice Rink partners. Providing the chiller package for the 2021 ice rink season at an iconic venue. This ice rink was a rooftop rink overlooking the City of London, and gave us an opportunity to our name against a great project. Due to its rooftop location, the chillers and associated ancillaries had to be lifted onto the roof with a Crane.
Following the enquiry, Celsius Hire discussed with the client the best way to co-ordinate the delivery/installation of the equipment. As there was not much space up on the roof, it was important our lift was at the correct time.  This would to ensure no disruption to the build of the rink itself. The location of the chillers on the roof was determined, and the pipe run agreed. We also specified a buffer tank and run/standby external pump set for the application. This ensured suitable system volume and redundancy in the unlikely event of failure.
Ice Rink Hire Equipment:
Upon delivery, the crane lifted the chillers into their position on the roof. The associated buffer tank and pump sets were landed next to the chillers inside the agreed compound. Pipework then ran along the adjacent back wall before connecting onto the clients ice rink header system.
The system was filled, commissioned and run at the requested operating conditions. Our client then began their process of building ice on the mat ready for the opening date. The rink has since run flawlessly with people able to enjoy skating whilst taking in the view of the London skyline.
Lee Chard, Director, commented:
"Every ice rink is great to supply cooling equipment too, but this particular rink was one we really wanted to be a part of. It was great to see the project executed as planned, to see a happy client and lots of people on the rink!'