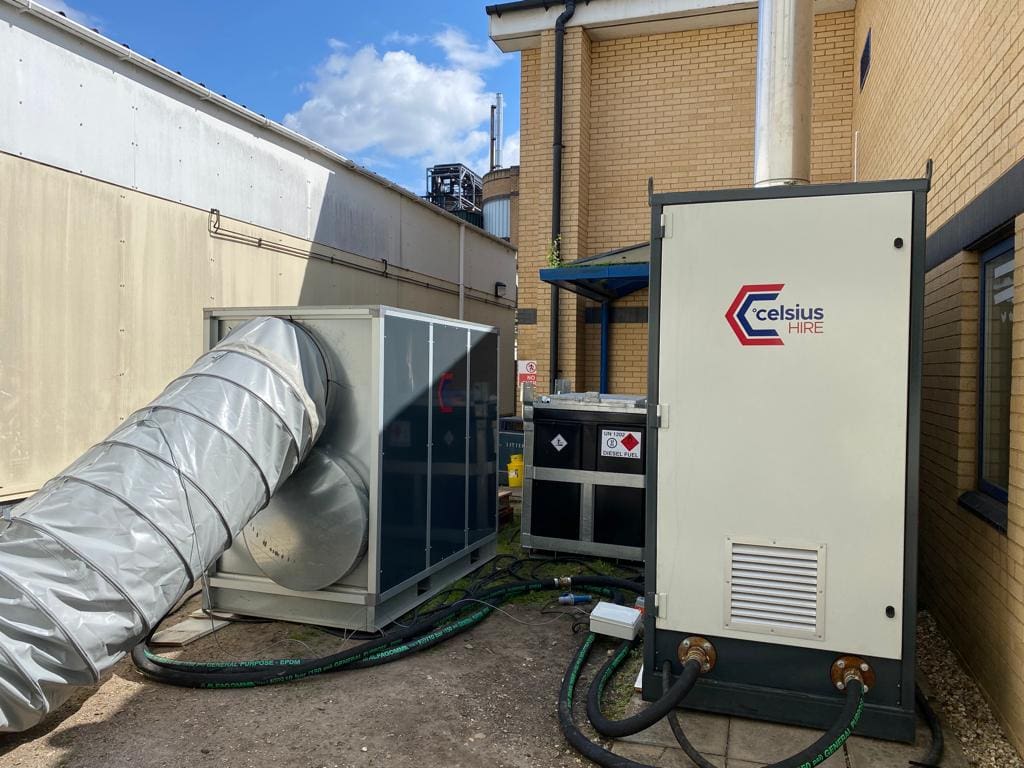 AHU and boiler hire for NHS hospital
Boiler and AHU package hire for our NHS client. Customer was replacing their AHU so a temporary system was required to maintain air flow and temperature to the building. Our emergency boiler and AHU hire was swiftly put in place as the client had prepped for this failure with a contingency plan – allowing us to have the relevant kit on site within hours.
The client required:
800mm ducting
Medical grade C7 filters
At Celsius Hire we tailor every install to the client requirements; the NHS are committed to putting patients care at the forefront of decision making. So, for this install we had to ensure we were doing the same. Of course, the team made sure there was no down time for the system. Keeping consistent heating whilst changing from the clients system to ours was vital. Therefore, a smooth install was essential.
The boiler and AHU provided close control temperature to the building. With temperature probes in the ducting regulating the flow from the boiler we were able to constantly maintain the set temperature to the building. We also connected our 10000m/3 extract fans on the roof – this provided the correct extract from the building.
At Celsius Hire we give a full turn key service. Meaning that we complete any necessary maintenance required. Throughout the hire our teams returned to site fortnightly to change the AHU filters; giving a second to none service to the client.
As a result of a well planned and maintained install and hire period; we had a very happy customer. Whilst providing a hire service with fortnightly filter changes on the AHU; the team also provided a package ideal for the purpose. Excellent service all round from team Celsius.
"Striving to always meet our clients specific and essential requirements. Our team has a brilliant client relationship. Ensuring we help every step of the way".