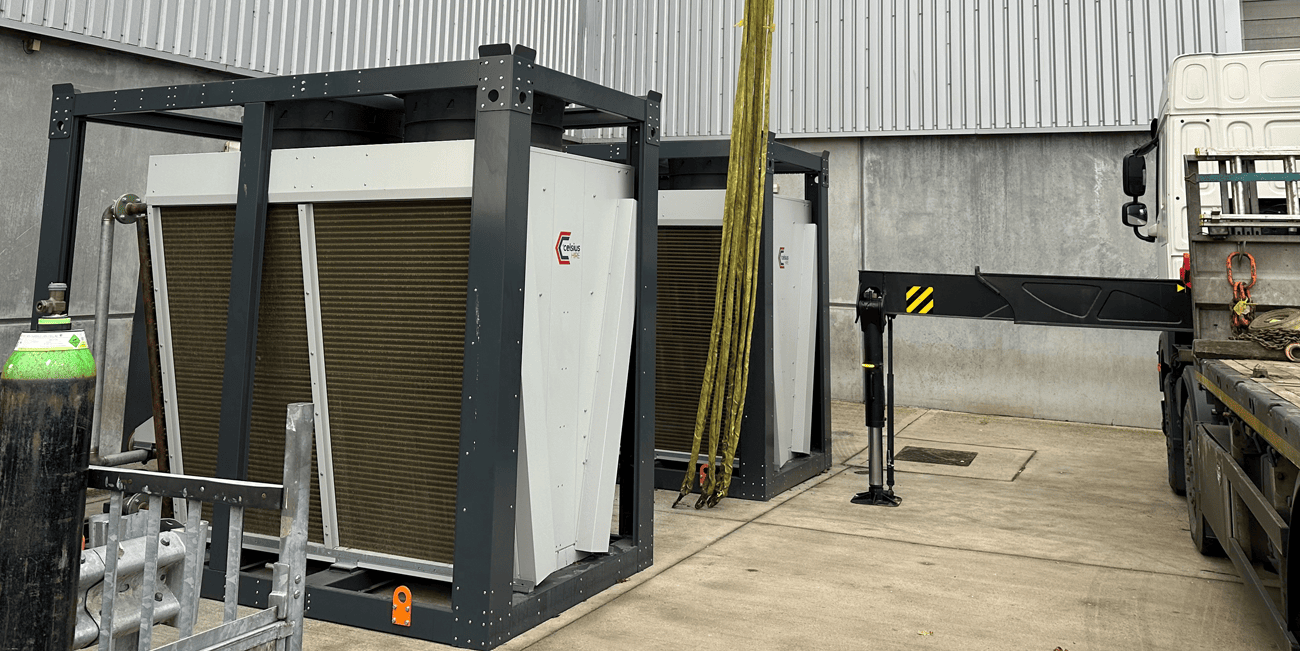 Dry Air Cooler Hire For Weld Line At Manufacturing Plant
When the cold weather struck in mid-December 2023, countless sites had issues with water systems freezing and causing frost damage to coils and pipework. One of these unfortunate sites was a familiar one to us, a large car manufacturing plant in the Midlands. Their 'Weld-line' cooling system had problems and Celsius Hire were called in to help them get back up and running.
Upon attendance to the site survey, it was clear that the client needed a solution, fast. All of their coils on their cooling system had frost damage, and their weld line was currently not operating as the chilled water was required at all times to keep the machines inside the factory cool. The main challenge we were up against was time.
It was established that two 250KW Dry Air Coolers from Celsius Hire rental fleet would be suitable for the application. Flexible hose was to be run from the proposed unit location to their main system, where spool pieces were to be removed in order to connect in. Special elbows were specified that needed to be pre-fabricated in order to fit inside the same space occupied by the removed spool pieces.
As turn-around was key, a generator package was also insisted on to run the equipment. Therefore, was no hold up in waiting for a power supply.
Dry Air Cooling Equipment:
– 2 x 250KW Dry Air Coolers
– 1 x Generator and Fuel Management Package
The very next day, the HIAB delivery vehicle full of rental equipment, and a team of engineers arrived on site.
The equipment was unloaded in position and operatives quickly got to work on running in the flexible hoses, before connecting onto the client's pipework circuit using the specially fabricated fittings which had also arrived on time.
The rental system was then powered, filled and commissioned all in a morning's work. Restoring the cooling circuit back to the customer's process and allowed them to start production again.
"When a high profile client has a cooling system issue like this, we understand what is on the line. For every hour without the rental system operational. We know they are losing lots of money, so our team are always motivated on jobs like these to get them across the line as quickly as possible. Whilst never compromising on quality of installation. Dry air coolers are the perfect solution for this emergency install ."