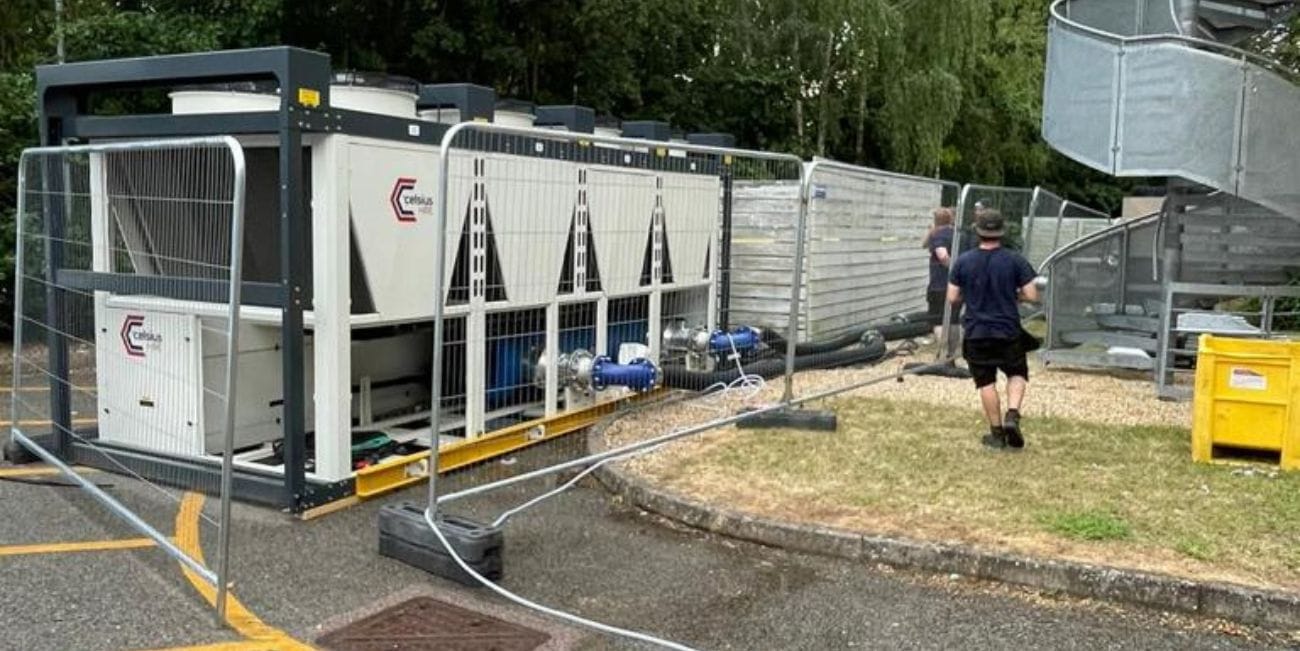 Install for a science park and research centre chiller
We were contacted by a science park and research centre with an aging and failing chiller system. They required a temporary solution to provide chilled water which served multiple labs on site. This was important for all the machinery at the correct temperature, and keep the people comfortable too.
The chiller on site was failing and wasn't reliable enough to provide consistent temperatures to site. Eventually, the customer will replace their chiller, but the client required a more reactionary solution. Avoiding breakdown and having a reliable chiller on site was essential for the customer.
Celsius Hire attended the site to assess the best solution for the client. Our free site survey ensured we provided the best fit chiller and install for the site requirements.
We delivered a 900KW chiller to site, with flow and return pipework from our chiller to the existing research centre chiller flow and return. This allowed for a swift install by the team with minimal disruption on site. 
Our priority was to keep the research centre fully operational during working hours. Firstly, to do this organised for the existing research centre chiller to be taken offline at 6pm when the site was closed. Finally, temporary chiller was then commissioned to ensure the centre will be cool the following morning, ensuring zero disturbance to employees.
Research centre chiller:
Celsius Hire carried out the chiller install at the research centre and science park. Swiftly and smoothly the install of the 900KW chiller was placed on long term hire. As always, another great install for the team at Celsius Hire.
Josh Clark, Sales Engineer, commented;
"The team really went the extra mile on this job! The chiller will support cooling onsite for the summer. Providing a bespoke install meeting the customer requirements was essential for this busy site."