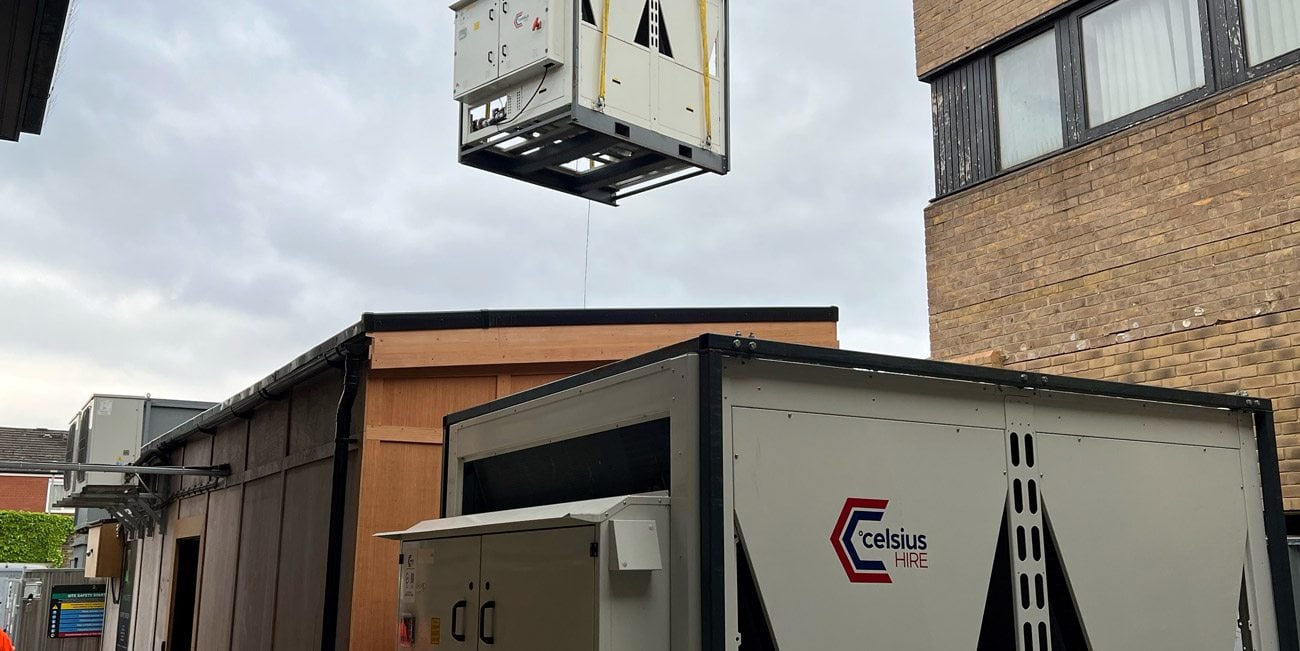 NHS Chiller for a long term hire
We were called by one of our valued trade partners who had maintained an old ammonia system chiller system. Supplying air conditioning to a large East London Hospital.
Eventually, existing ammonia chillers had been condemned by a consultant. The client determined that the long term solution was to turn to Air Cooled Chillers on the roof. A permanent solution was a long wait, so the client needed a temporary installation for a minimum of a year to keep cooling to the hospital.
A meeting between us, our customer, and the hospital to review the best temporary solution.
On the survey, the existing chiller system, compromising of 2 no. 500KW ammonia chillers, was closely looked at. It was important to understand the hydraulics of the system in order to apply air cooled rental chillers.
The main limitation was available power supply. Available to us was 3 no. 200A power supplies. These power supplies were not large enough for a 500KW chiller. Therefore we chose 3 no. 300KW chillers to cover the cooling duty as each of these chillers fell below 200A.
We also had a limited space available to us outside the ammonia chiller plant room. It was decided that 2 no. 300KW rental chillers were to be crane lifted into this space. A third chiller was to be brought in for the summer months, and to be located in another location approximately 30 metres away from the plant room.
On the same day as the survey, an approved Celsius Hire sub-contractor attended site to survey the crane lift.
Equipment:
Early one morning, Celsius Hire and our craneage sub-contractor were on site lifting in place 2 no. 300KW chillers into their position outside the plant room.
Our client had appointed their sub-contractors for the mechanical and electrical works. A header was installed onto the existing pipework to provide connections for our 3 chillers, and cables were terminated into the boards in the plant room.
Hoses and temporary cables were ran in by our operations, and the system filled in commissioned. Therefore, NHS chillers were left operational and after a proving period, the ammonia chillers taken offline for the last time.
Jake Revell, Director:
"When the ammonia system on site was condemned, the client only had one option, and this was to turn to rental equipment. A permanent solution was not close around the corner, and the cooling requirement was critical. These chillers will be on site for at least a year. It was key to provide a flexible solution for the client which met their existing cooling demands. Keeping project and enabling works to a minimum. By implementing 3 no. chillers that met their existing power supply requirements, this kept costs down and ensured a smooth change over onto our chillers'