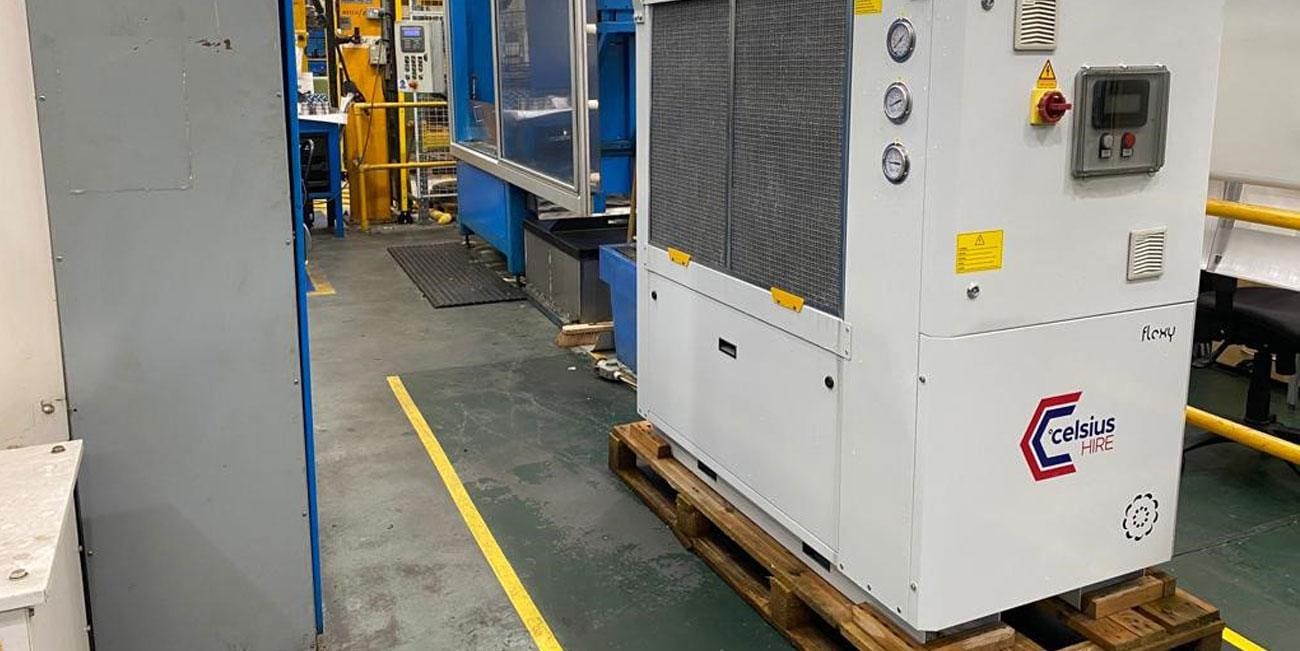 Process Chiller Rental for Car Component Manufacturer
Celsius Hire were approached by a customer to provide multiple rental chillers for their process chiller requirements. Due to extreme demand, the client needed to expand quickly. They had introduced plenty of new machines, all producing their own heat load within the factory. The client turned to a rental solution as it provided a quickly solution and flexibility should their requirements develop further.
Each application had its own individual hydraulic requirement, and this needed to be carefully considered when selecting the rental chillers.
Following the enquiry, Celsius Hire ran heat load calculations on the requirements and selected the following chillers for the application;
Process Chiller Package:
– 2 x 35KW Chiller 
– 1 x 15KW Chiller 
Alongside the equipment, a selection of hoses, fittings and cables were specified to ensure quick and ease of installation onto the clients process. The chillers received a full test prior to dispatch and were pre-programmed and run, simulating the conditions they were going to experience on site. This was particularly critical due to the nature of the clients business.
The equipment was delivered and the client positioned all the chillers inside the factory, next to the associated process application. Each chiller was then individually installed and commissioned. During each commissioning the client simulated running load to ensure the chiller was delivering the correct temperatures and flow rate at all times.
"For some clients, turning to a hire solution is not only the quickest, but the most flexible solution. With multiple smaller chillers, it gives them the option to either upgrade or downgrade the rental package should they have any more or less cooling requirements. In this case, the client was able to quickly add more production in reaction to the increased demand they were experiencing. It was great to see both us and the client prosper from one of our rental solutions."