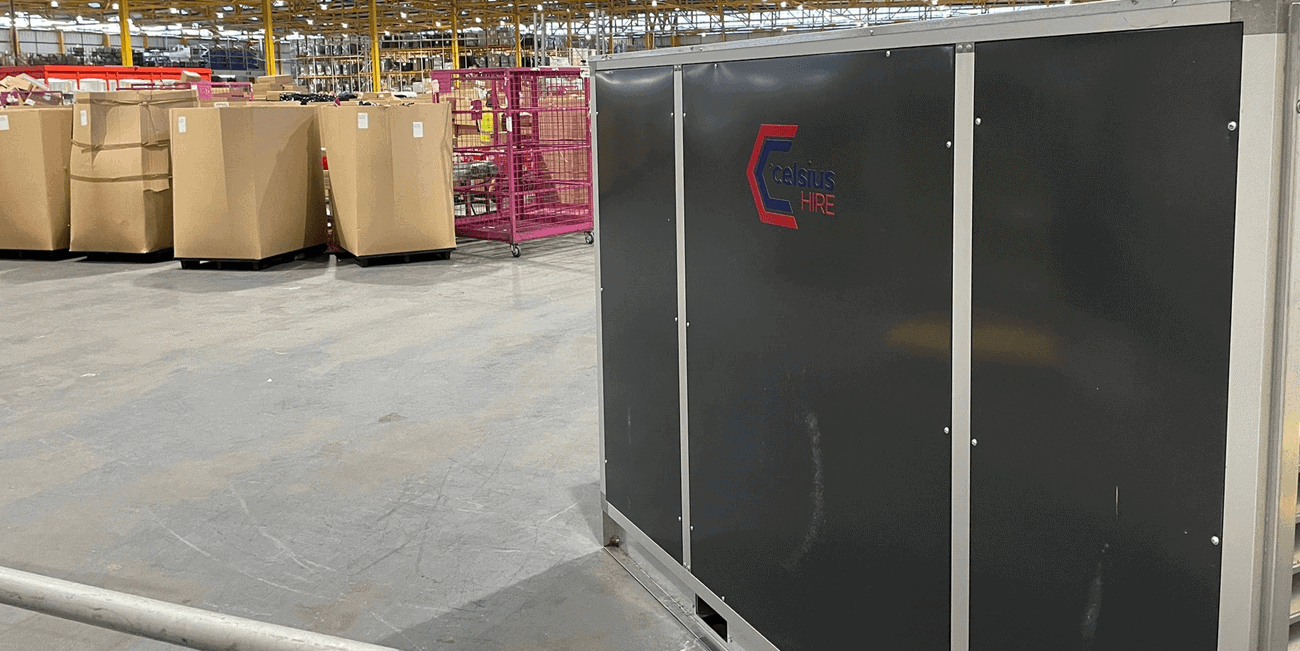 Seasonal Warehouse Heating Solution For Large UK Distributor
A large well known distributor, based in Essex, came to Celsius Hire with an issue. Their warehouse space was too cold every winter, and after multiple surveys had been undertaken, it was deemed that installing a permanent heating system within the space was not feasible. They had rising concerns with multiple staff complaints every year and were conscious the temperatures were affecting overall productivity.
The warehouse was over 75,000 square foot, requiring a huge amount of heating to keep the warehouse warm. With an absence of sufficient gas or electrical supplies, the heating system would need to be oil fired, adding extra costs to be considered. Our challenge was to design a system that took the edge off, and spot heated, certain areas within the warehouse. This would bring the temporary heating system within budgetary constraints, whilst also keeping staff happy and alleviating the client's concerns.
Following the enquiry and preliminary discussions, a site survey was undertaken to determine locations of the temporary plant within, and external to the warehouse.
It was agreed that the best solution to provide the most efficient heating within the warehouse would be two re-circulating Air Handling units located inside the warehouse space, providing a high volume of warm air to the two packing areas of the warehouse (where the staff would do their jobs stood still). Each AHU would be connected to an externally located oil fired Boiler, using flexible rubber hoses. A hose route was determined between each Boiler and AHU, taking in mind fire exit routes and trying to run at height where possible to avoid disruption to the processes for the staff.
The client agreed to install power supplies for all of our equipment, along with cutting of holes in the cladding to enable the hoses to go between the plant.
– 2 x 300KW BOILERS (DUAL FUEL)
– 2 x 150KW AIR HANDLING UNIT
– 2 x FUEL TANK 3000
The delivery was arranged at a time where the loading bay areas were the most quiet, as this was important to ensure we did not disrupt operations when unloading the equipment via HIAB HGV.
The system was delivered, installed and commissioned over a period of 2 days to the satisfaction of the client. Luckily, they also held up their end of the bargain and the holes and power supplies were installed. What followed was a fully functioning temporary heating system, delivering temperatures into the warehouse that had never been seen before in the winter months.
Jake Revell, Director, commented;
"We often hear that installation of permanent systems are not feasible for many large scale warehouses, either due to budgetary restraints or lack of supporting infrastructure available to support the sheer amount of energy required to heat/cool such a space. When this client approached us it was clear that to secure the business we needed to work with them to provide a solution that solved their issues, but without going over the top and making it financially unsuitable. Luckily, we succeeded and looking forward to working with this customer in the winter seasons to come"