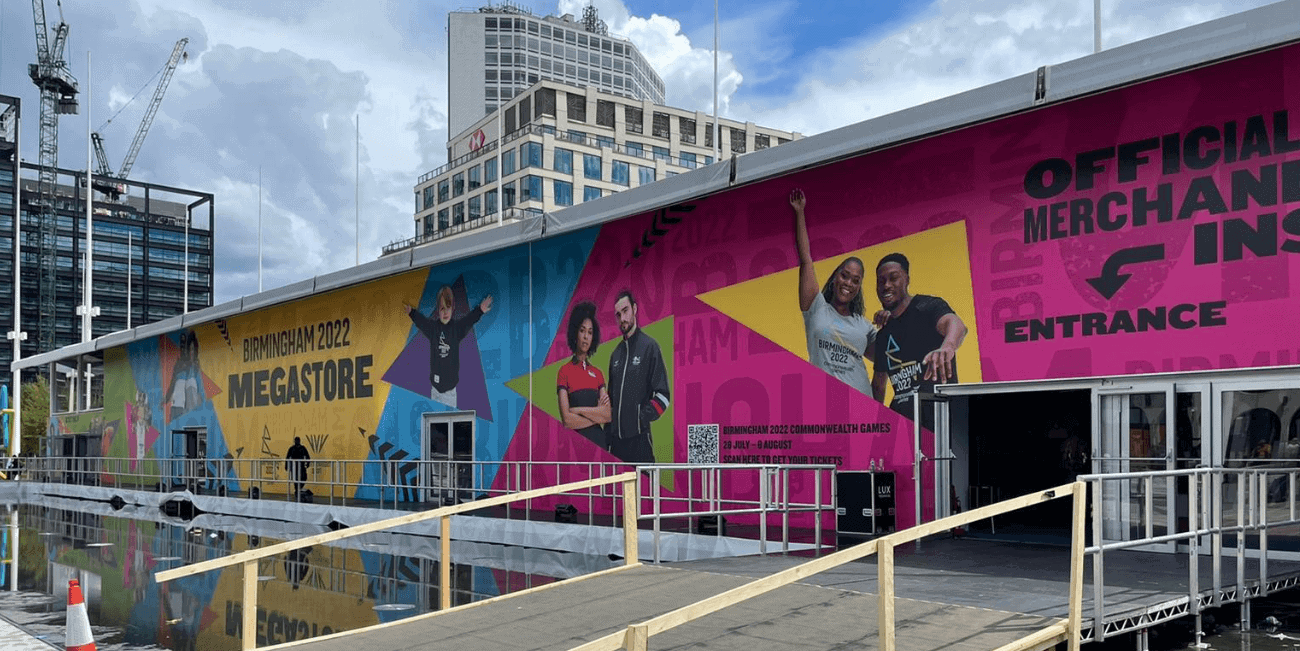 Temporary Event Cooling For The Commonwealth Games
Birmingham had the pleasure of hosting the 2022 Commonwealth Games, a worldwide sporting event. Celsius Hire were called on back at the start of the year to begin looking at a temporary event cooling solution for the megastore and television studio complex in the heart of the city.
The megastore was a large temporary structure selling all the merchandise for the games, and the television studio/media offices were located on the first floor of the same structure.
Our brief was to provide comfort event cooling for both these areas. Whilst being non-intrusive and quiet with our solution.
Working with our trade partner and site team, a cooling plan was drawn up using the site plans. For the megastore solution, we proposed an event cooling package totalling 250KW, compromising of 2 no. 125KW packaged chillers located outside, and 8 no. 50KW AHU's located internally inside the store. Our client was to build and box the structure around the AHU's. This would keep them and the hoses hidden inside the space, for safety and aesthetic reasons.
For the television studio, a package was suggested totalling 70KW. A 70kW packaged chiller was to be located outside, with 4 no. 30KW fan coils located on the first floor. These were to be set pack roughly 10m from the studio, with flexible ducting run to the studio area in order to keep the noise in the filming area right down.
Finally, for the first floor media offices, we therefore proposed a portable solution compromising of 4 no. 7KW split AC units. These were to be dotted around the space providing local spot cooling to hotspots.
Event Cooling Package:
– 2 x 125KW Chiller
– 1 x 70KW Chiller
– 8 x 50KW AHU
– 4 x 30KW FAN COIL
– 4 x 7KW Split AC Unit
We arrived on site to deliver all equipment in the early build stages of the project. The building itself was erected, but none of the interior panelling had been started. This gave us the opportunity to land and locate all of the internal AHU's and run all pipework without obstructions.
Once the external chillers were landed in our designated compound outside the structure, work could begin. We began to run interconnecting pipework between the chillers and the internal AHU's. Then, our hoses were lagged with Armaflex, this prevented pipework sweating and water issues inside the store.
Finally, all the systems were filled with a local water supply and commissioned to provide the required air temperatures inside the spaces. The client then built around the AHU's to hide them and integrate the cooling system into the building design.
Subsequently, in the end, we were left with one happy client. Providing a cool megastore and television studio area.
Lee Chard, Director, commented;
"It was a great opportunity to be able to work with one of our valued clients on such a prestigious project. To be able to flick the TV on and know that we are behind the comfort cooling package is a good feeling. Our solution was specified for this project after long discussions with our client and site team. Therefore, the team provided the correct amount of cooling, whilst being quiet and unintrusive. Event cooling at its finest."