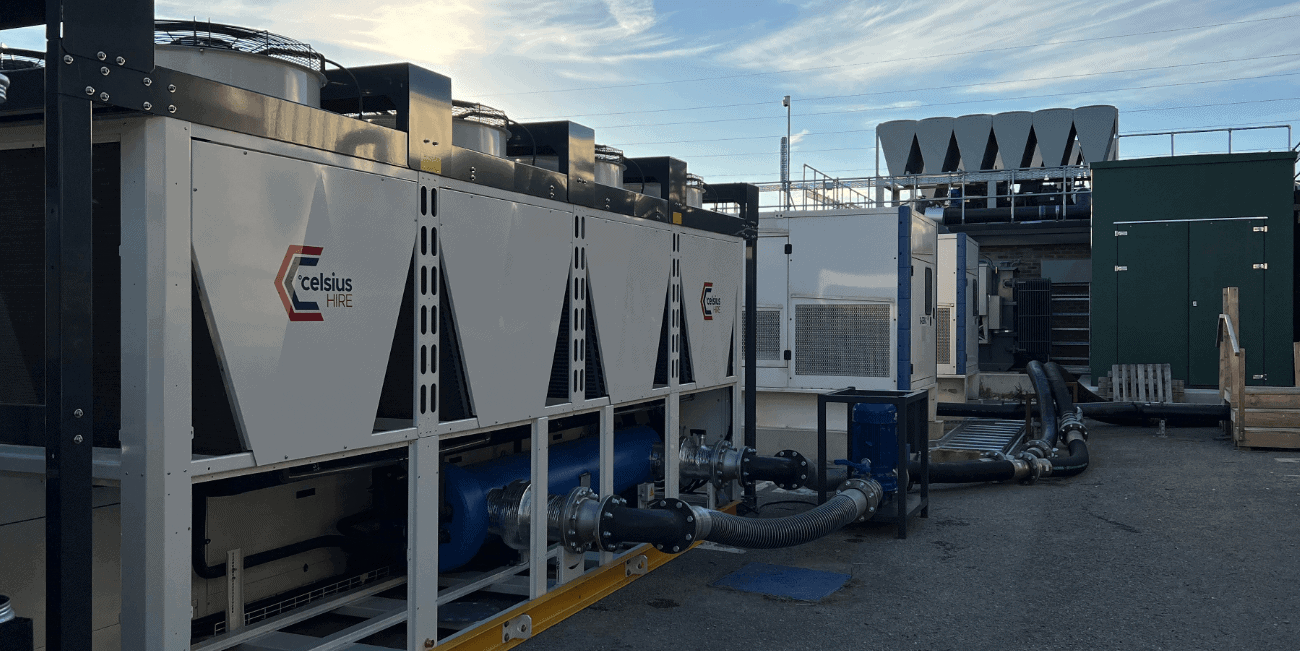 900KW Chiller Rental Package For Large Fresh Produce Provider
Celsius Hire received a phone call from a large fresh produce manufacturer on the South Coast, during a moment of need. Their existing chiller system had failed, and this left them without a chilled water/glycol circuit, which provides the whole site including cold storage and process cooling.
The challenge was to come up with a fast, reliable and efficient rental system. This needed to get them out of immediate trouble, but also provide a longer term solution as their system was beyond repair.
On the same day as the enquiry, a site survey took place between Jake Revell (Celsius Hire – Director) and the engineering team based on site. The survey included identifying mechanical connection points into the system, where power for the chiller was to be taken from and finally the location of the temporary chiller.
A plan was formulated that included the client appointing an emergency electrical team to run in a new power supply for the equipment. Celsius Hire were to provide a pump set and 6" PN16 flange flexible hoses to run between the temporary chiller and identified stab ins approximately 20 metres away.
The client had a lot of mechanical plant near to the proposed temporary chiller location. This restricted access for the HIAB delivery vehicle and made the unloading area tight. We contacted our specialist lifting sub-contractor and asked them to join us for a survey and produce a lift plan for the works.
The delivery vehicle arrived on site and was positioned in its unloading position in line with the drawn up lift plan and approved method statement. The chiller was precisely lifted into position and agreed by the client.
All in a day's work our team connected the flexible hoses, temporary cable set, filled and commissioned the system.
Our chiller brought the glycol circuit down to temperature and our customer switched on his circulating pumps to start providing cooling to the cold rooms across site, which also started coming down to temperature.
The following day, our engineers returned to site to check on the equipment and the client had all their cold rooms down to temperature and processes fully back up and running.
Jake Revell, Director, commented;
"This job required full mobilisation of our team to get the chiller and ancillaries installed as quickly as we could. The client was losing lots of money not being able to operate site, and it was down to us to turn their fortunes. We installed a robust system that will be on site for the next six months at a minimum, and have ended up with one happy client – our ultimate goal."